The Perfect 10 horn section is completely wireless! Our performance extends from the stage to the dance floor and all over the room.
Jason P. Freeman
Trumpet, Background Vocals, Co-Founder & Band Leader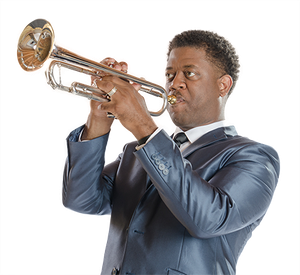 First Concert:  Wynton Marsalis with Clark Atlanta University's Jazz Orchestra at Davage Auditorium...I was probably in the 4th grade.

Best Thing About Perfect 10: I love that Perfect 10 is so diverse and hip! The band is an awesome mixture of backgrounds and personalities that blend beautifully onstage and off.

Hidden Talent: Cooking (I hide it well!)

Celebrity Memory: I was playing the ESPY awards with Outkast and Denzel Washington wanted to meet the band so he just walked into our dressing room and started up a conversation. Great guy!

Most Rewarding Musical Experience(s): While in college at CAU I got a chance to play with lots of jazz giants like Dizzy Gillespie, Hubert Laws, Pacquito D'Rivera, Jon Faddis, Quincy Jones and Lionel Hampton.
 
---
Tenor Saxophone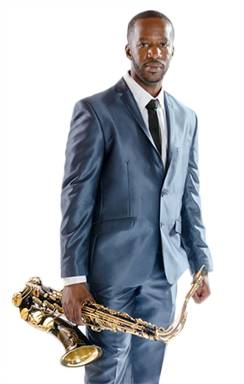 First Concert:
My first concert was a gospel concert featuring Fred Hammond in Brooklyn, NY.

Best Thing About Perfect 10: It's a family like atmosphere when we are all together.
Hidden Talent: I love to play basketball and can do back flips

Celebrity Memory: Meeting jazz saxophonist, Kirk Whalum, and having a lesson with him before his performance at the UNCF banquet.

Most Rewarding Musical Experience: Endorsement as a Yanagisawa artist.



 
---

David Taylor
Trombone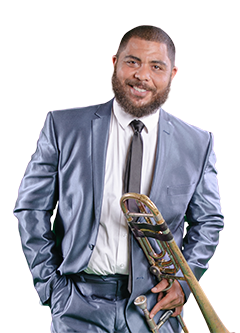 First Concert: Elementary school Christmas Concert. People clapped but I could tell nobody was impressed. 

Best Thing About Perfect 10: They like me, they really like me. 

Hidden Talent: My hidden talent is my great handy man skills. When I am not playing music I am normally working or repairing something.

Greatest Accomplishment: The loud whistle. Which requires two fingers and a lot of air. 

Most Rewarding Musical Experience: I found all of the Riddler Trophies on Batman Arkham Knight and defeated the Riddler. My new aspiration is to defeat the game on Knightmare mode.
Celebrity Memory: Jesse Jackson admonished me to wake up because I couldn't change the country asleep. In my defense I was literally taking a nap.